Decorating your wedding with paper lanterns

Are you planning a wedding?

We're here to share our favorite tips to easily create a dreamy setup!
For your big day, a ceiling filled with paper lanterns will bring a dose of happiness and cheer to your guests. 
It's all about mixing and matching different sizes of lanterns and colors. There are many ways you can use our paper lanterns and paper decorations for your wedding day. And because most of our colors are one-of-a-kind, you can be sure to create a unique piece of décor that guests will remember long after the event is over.
Our paper decorations are easy to hang and there are many ways to add them to your wedding décor according to the theme (boho, beach wedding), the venue (tent, ballroom) or your vision.
And after the event, why not reuse your wedding lanterns for another happy celebration or to decorate a kids' room?
>How many paper lanterns do you need to decorate your wedding venue? 
>How do you hang paper lanterns in your wedding venue?
>Which colors to choose for your wedding lanterns? 
>Our favorite color palettes
>What about illuminating the paper lanterns?
>Get inspired by some of our clients' décor
>Contact us for a free styling consultation
How many paper lanterns do you need to decorate your wedding venue? 
According to the type of venue and what you would like to have, you can scatter your paper decorations all over the ceiling or organize them in several clusters at various points of the ceiling (i.e. over the bride and groom table or a dessert buffet).
If you want to hang lanterns all over your venue ceiling, we recommend 1 to 2 lanterns or other decorations for every 32 square feet of space. You can then adjust to what you feel is right for your event and your budget.
You can also draw your venue space with its main features (tables, dance floor, etc.) and draw a little circle wherever you want a lantern. This will give you an idea of how many lanterns you would like to have.
Another solution is to string a very fine twine along the centerfold of your wedding tent and mix and match color forms that suit your wedding best. Each piece has a small hook for paper lanterns or a small string attaching the honeycomb ball and paper fan. That way it's super easy to hang them from the central twine.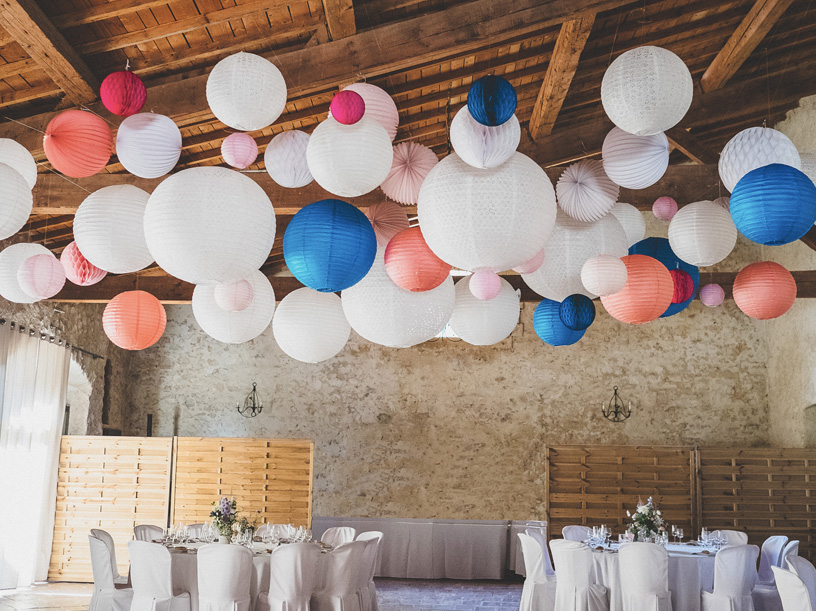 (C) Studio LM 

As far as what kind of paper lantern sizes to go for, we love when different sizes are mixed. If you have high ceilings, go for large paper lanterns, mixing 20'' and 26'', and complete with 11.5'' accordion paper lanterns and 16'' paper pompoms.
If your ceilings are a bit low, you should choose smaller sized products of 14'' and less (paper lanterns, accordion paper lanterns, pompoms, etc.)
To decorate only 1 or 2 strategic locations of your wedding venue, we recommend you concentrate the lanterns and group them quite tightly to get a nice statement effect: for instance, to cover 10 square feet of space you would use approximately 3 x 14'' lanterns, 2 x 11.5'' accordion paper lanterns, 3 x 8'' accordion paper lantern, 1 x 16'' paper pompom, 2 x 10'' paper pompoms.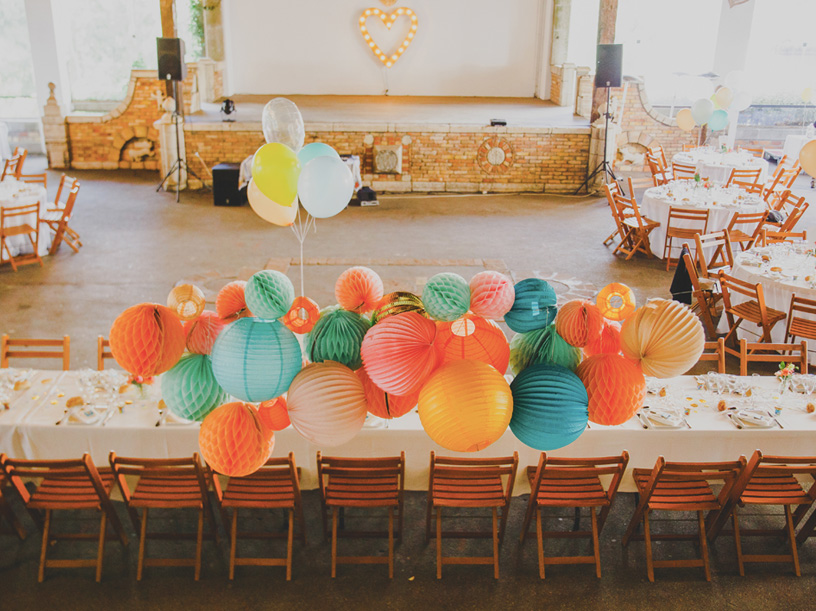 (C)
Maison Pestea
|
Nabie Productions
You could also decide to hang groupings of lanterns at different points of your wedding venue. For groupings of paper decorations, you should mix and match shapes, sizes and colors for a dramatic result. You should get a minimum of 6 pieces to get a nice lantern « bouquet ».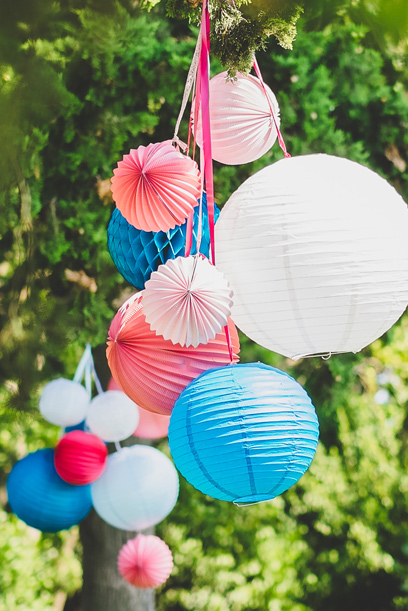 (C) Studio LM 
BACK TO TOP
How do you hang paper lanterns in your wedding venue?
Here are some tips to easily hang your wedding paper lanterns. All our paper lanterns and accordion paper lanterns have a small metallic insert or hook that you can use to hang the lanterns from fishing line or thread. Our other products (honeycomb balls, paper fans, paper pompoms) have a small string you can use for hanging.
Once you've checked the hanging possibilities for your wedding venue, you can go ahead and decide the best way to proceed.
Creating a « wedding sky »
The easiest way to go is to string fishing line or thread to create a « net » over your party venue, on which you will be able to hang your lanterns and paper decorations at different heights.
In a wedding tent, you can also use the metallic structure of the ceiling for an easy hanging solution.
If you want to decorate only specific spaces in your venue (i.e. the dance floor or dessert table), you use the same technique in the smaller area.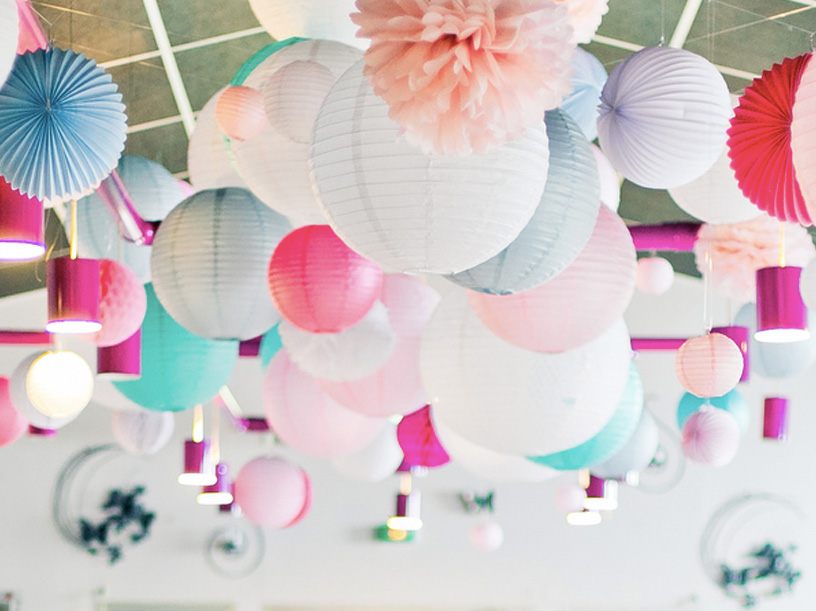 (C) Elena Fleutiaux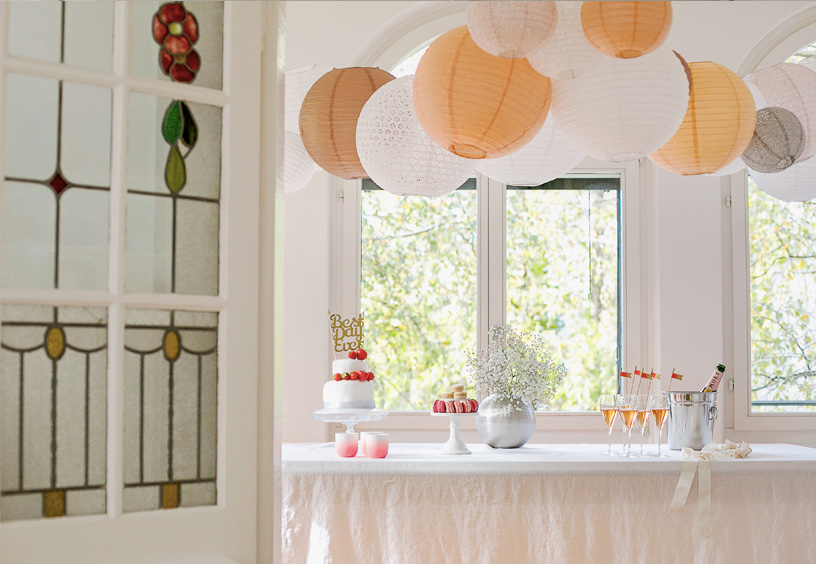 (C) Under The Paper Lantern
Hanging paper lantern groupings
A good tip if you choose to create paper lantern clusters to hang at different points of your venue: you can create these on the floor or at your height, using a common string loop that you will be able to easily hang once the cluster is ready. You could totally use tree branches if your celebration is outdoors!
Decorating your wedding venue specific features
Some of our clients also use specific features of their venue to hang paper lanterns: a staircase, balcony etc. Concentrating paper decorations around these features will create a great dramatic effect.
For a gorgeous party backdrop
If you have organized a photo corner, or want a pretty backdrop for your dessert table, use our paper fans that are super decorative and so easy to set up. Most of the time, washi tape can be used (although you need to test if it is strong enough to holds your décor for a long period).
You can tape small sized paper lanterns on a big piece of cardboard for a modern and super festive backdrop.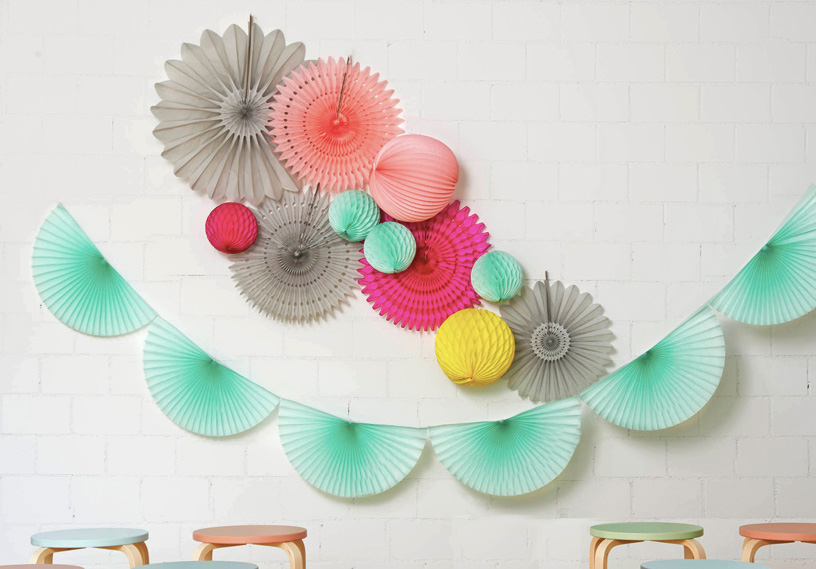 (C) Under The Paper Lantern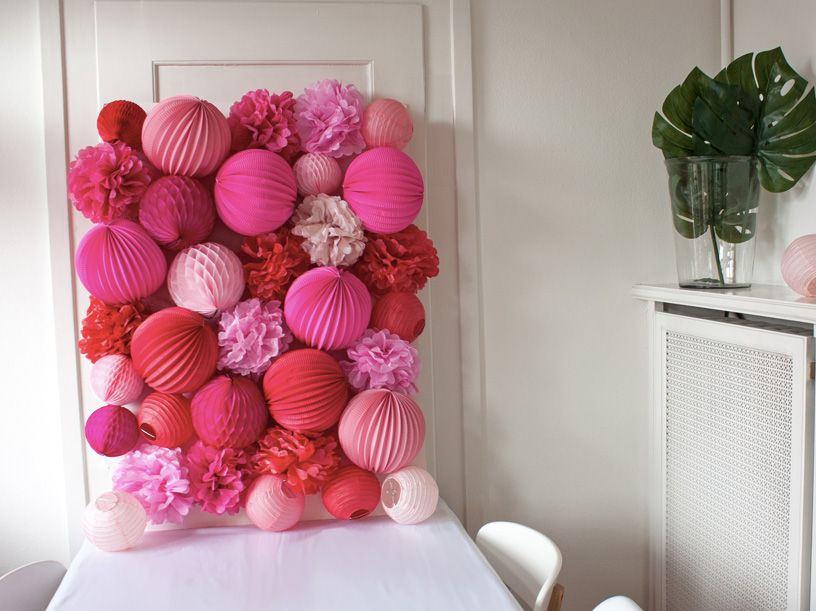 (C) The Under The Paper Lantern
Which colors to choose for your wedding lanterns? 
Whether you chose a romantic theme for your wedding, or decided to go for a boho outdoor soirée, or a bright colors super fun event, our large one-of-a-kind color range will satisfy any of your decorative needs.
You can select a couple of colors that match your color palette, or go for neutral paper lanterns.
Do not get overstressed over the exact accuracy of your paper lantern colors. Once hung on the ceiling, and according to your venue luminosity, the finish will vary especially because our paper decorations are made in different materials, some very thin (paper lanterns) some thicker (accordion paper lanterns). Even though the selected products may not match your exact Pantone colors, once « up » the general feeling will totally match your wedding theme (and your guests won't be appalled!!).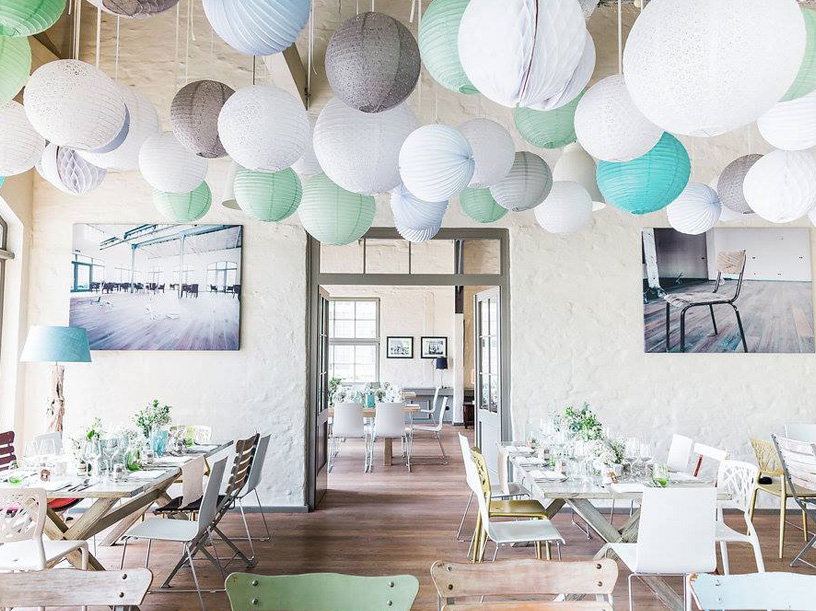 (C) Marlen Mieth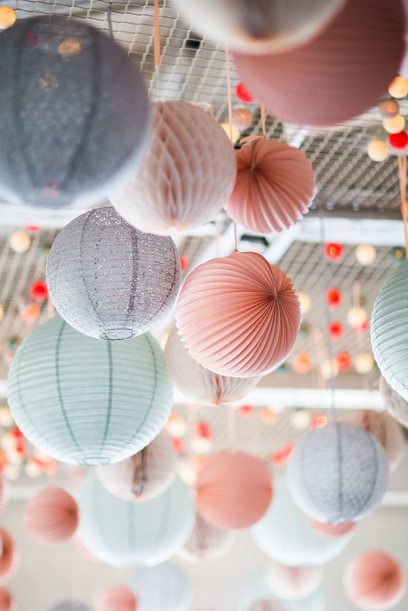 (C) Marlen Mieth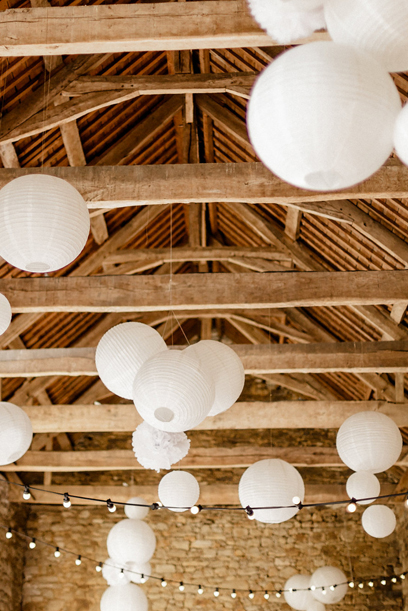 (C) Sebastien Hubner | Majenia
White and neutral shades are always a safe bet
Even you if you go for white, grey or off-white decorations, you can create a beautiful setup using our different shapes (paper lanterns, honeycomb balls, pompoms) creating a very elegant ensemble that will match any theme and venue. Our lace paper lanterns are a wedding favorite!
A selection of our favorite paper lantern palettes
(click on each picture to shop the look) >>>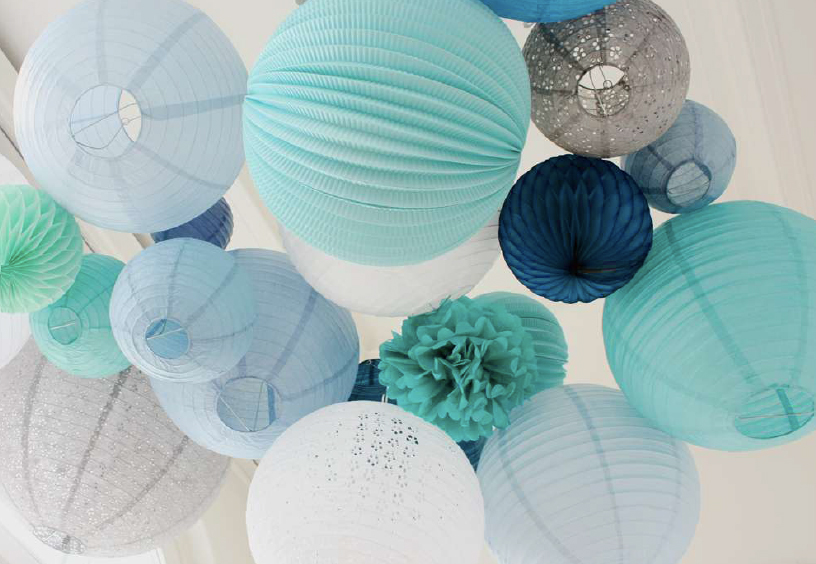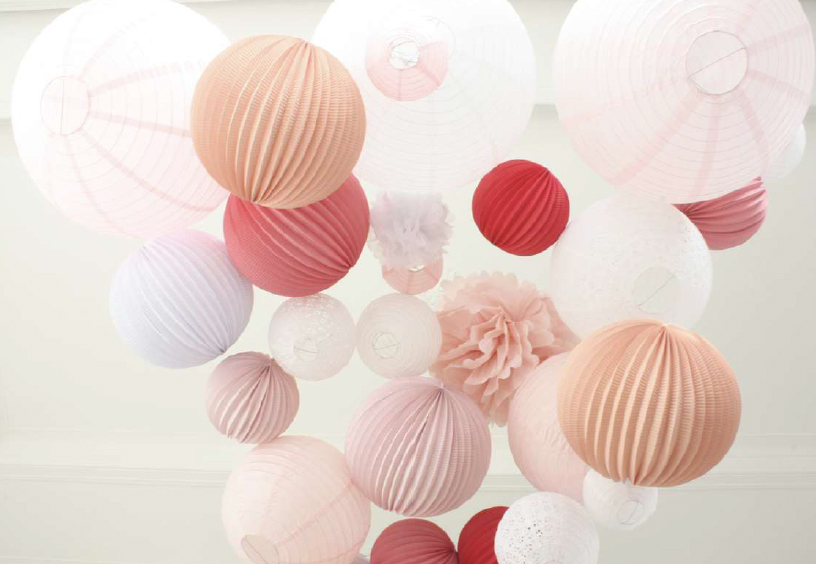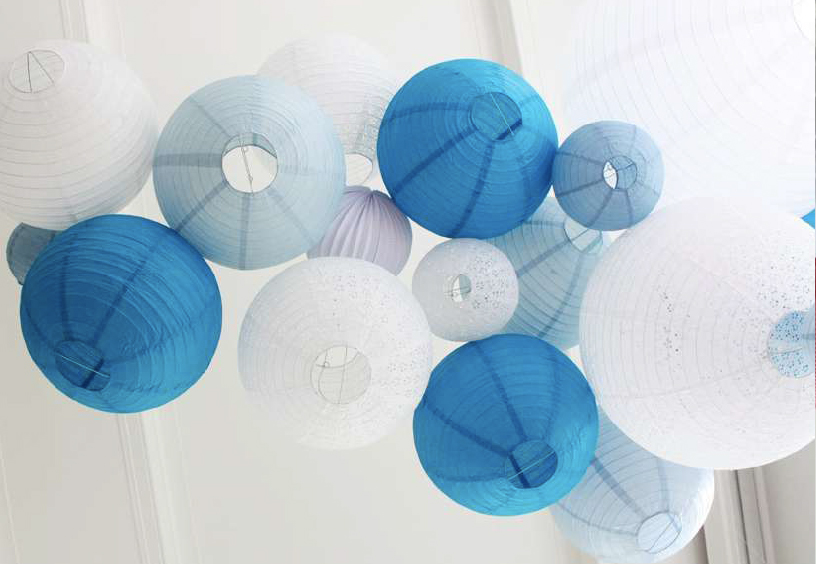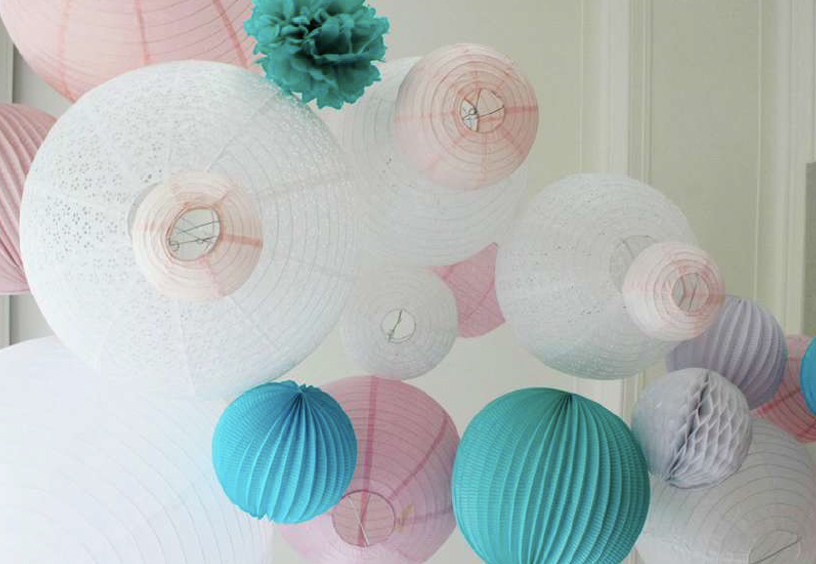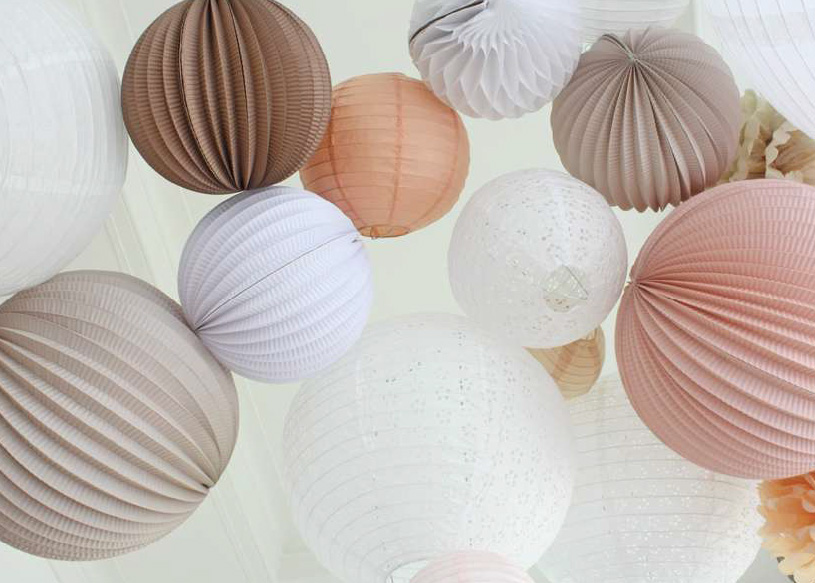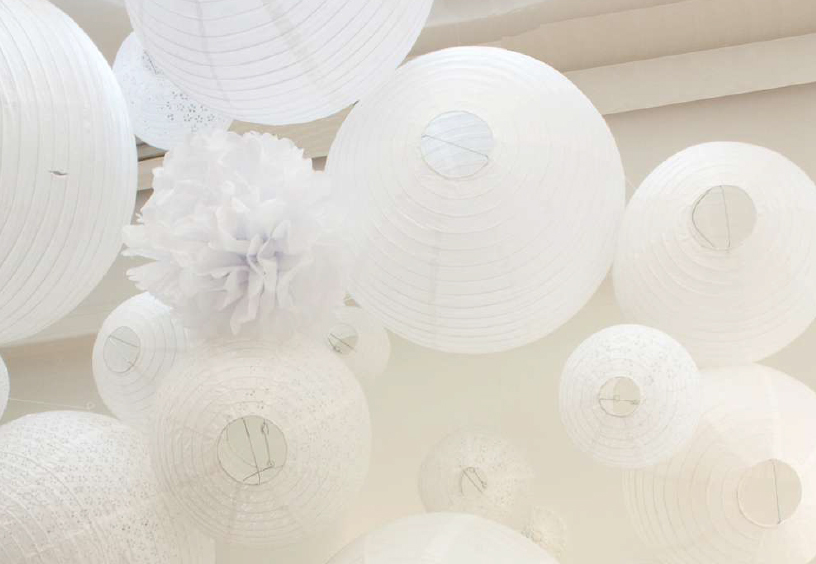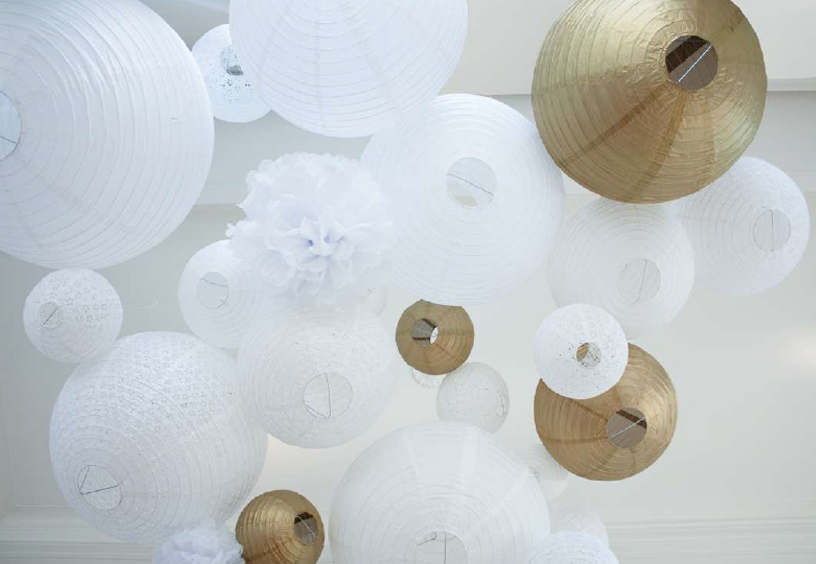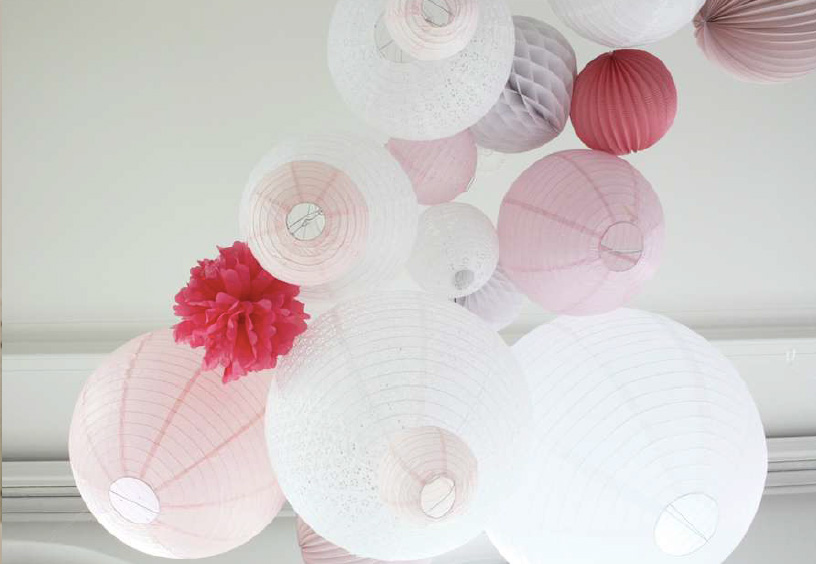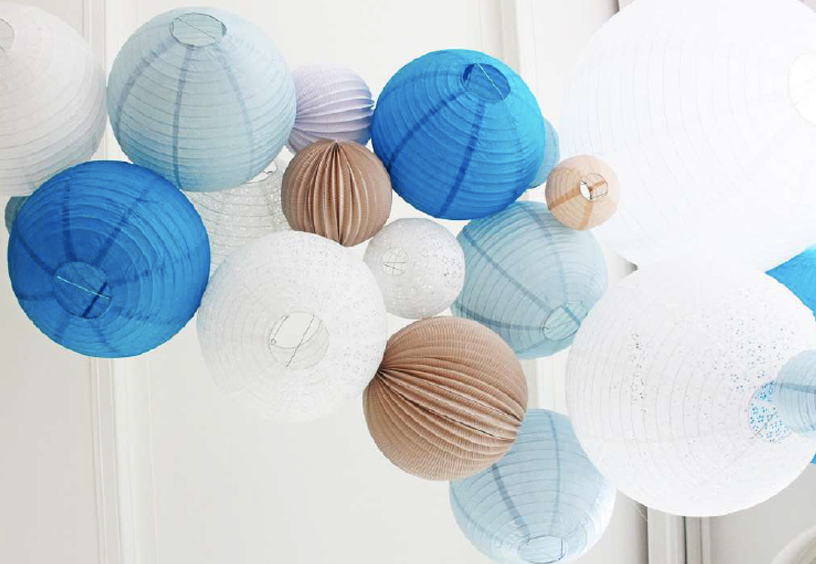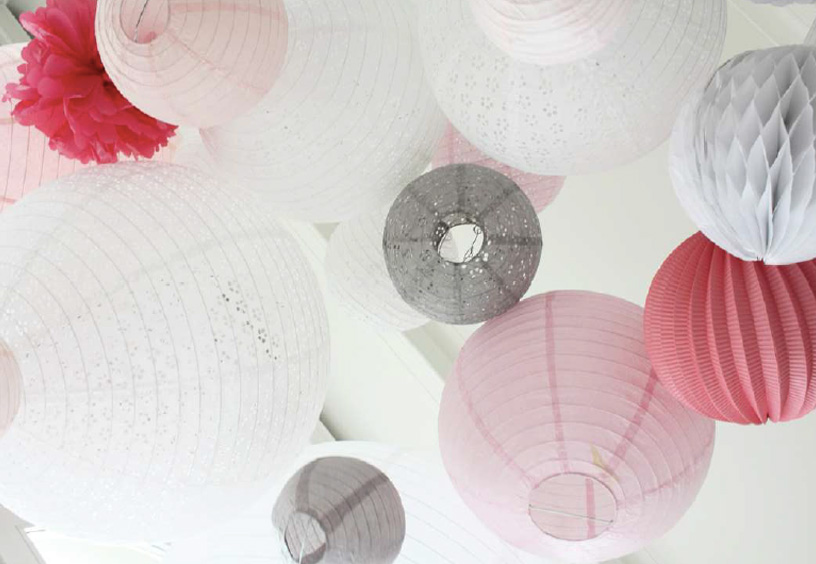 What about illuminating the paper lanterns?
In our opinion, our lanterns are gorgeous without any light inside, but if you want to light them up, here's how to do it.
For the paper lanterns from 14" to 26", use a 40 watt or smaller bulb, making sure you center the bulb right in the middle of the lantern. Find the little "C" hook on top of the lantern and use it to secure the electrical cord. Even better, use a LED bulb of the same maximum wattage, or LED hanging battery lights. They're safer because they don't produce as much heat.
For small sized paper lanterns (6'' and 8'') and accordion lanterns, only use mini battery-operated LED lights. If you want to individually light a large number of lanterns for an event, these are an affordable and safe choice. They can be found online (we do not sell them for the moment).
Get inspired by some of our clients' décor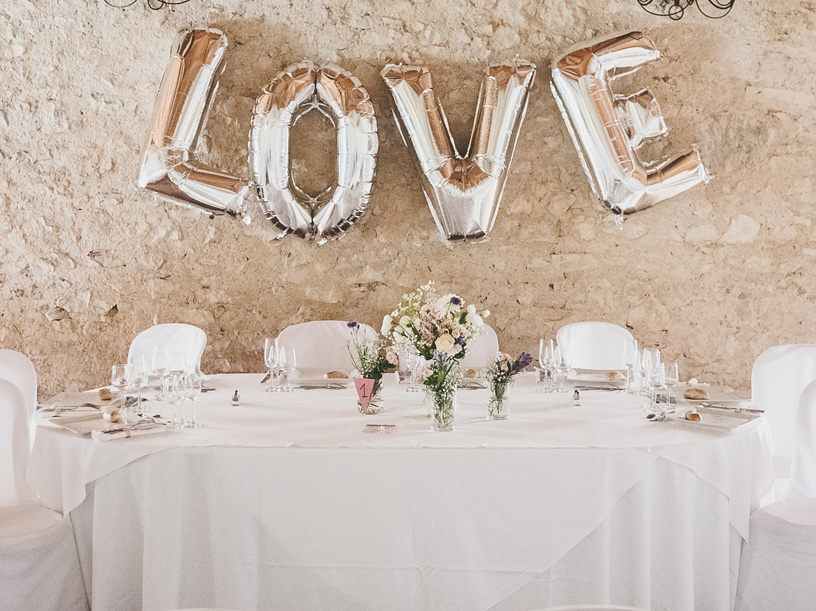 (C) Studio LM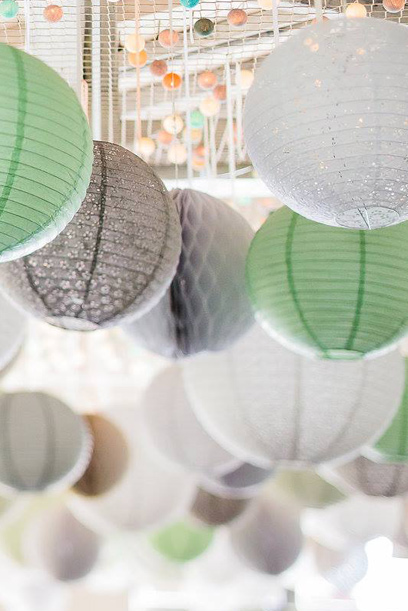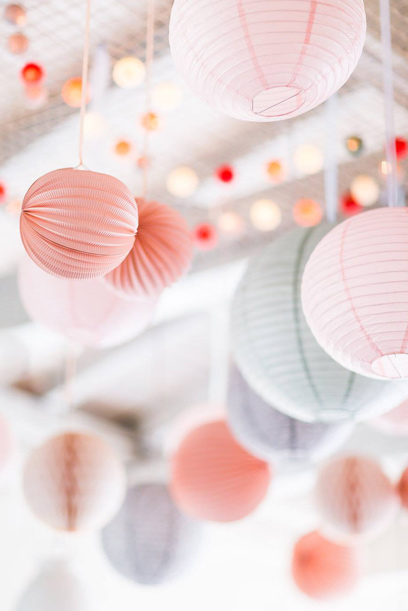 (C) Marlen Mieth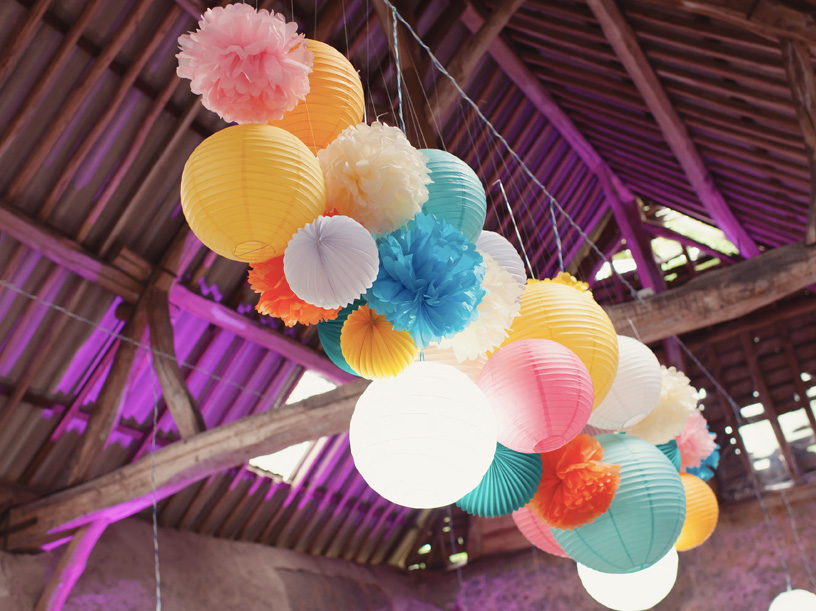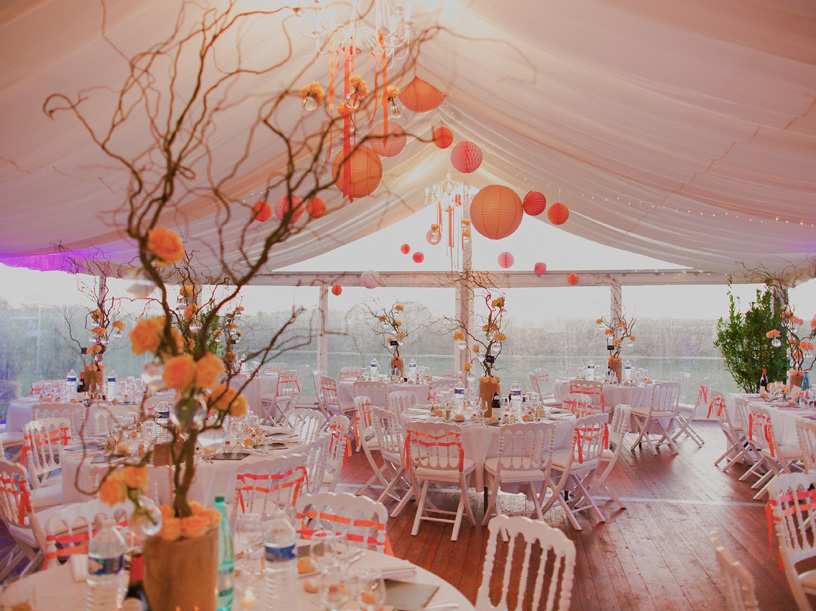 (C) Ulrike Pien  | MG Events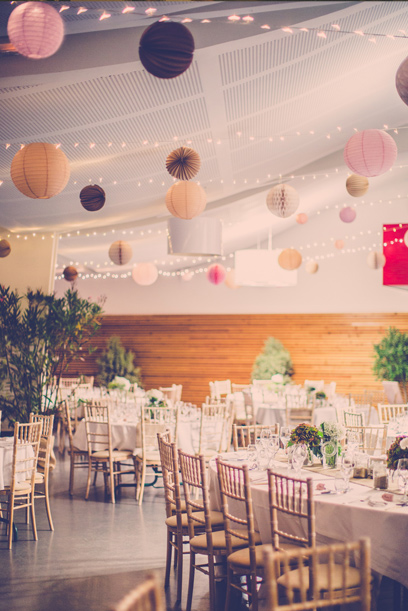 (C) Nicolas Bellon | MG Events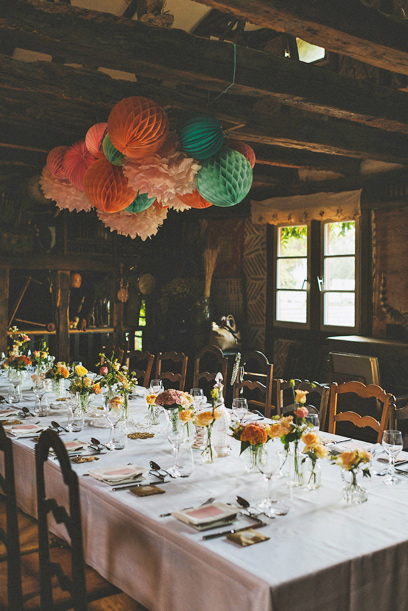 (C) Pedro Bellido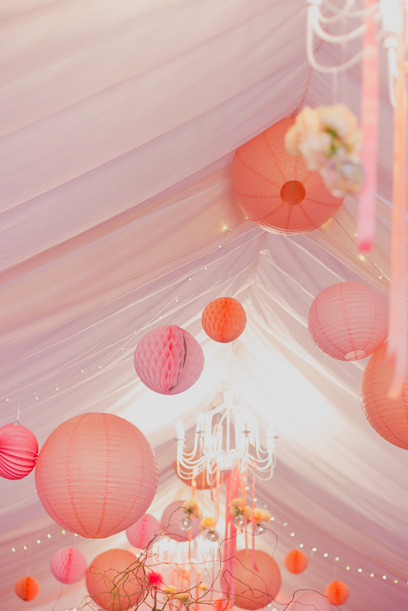 (C) Ulrike Pien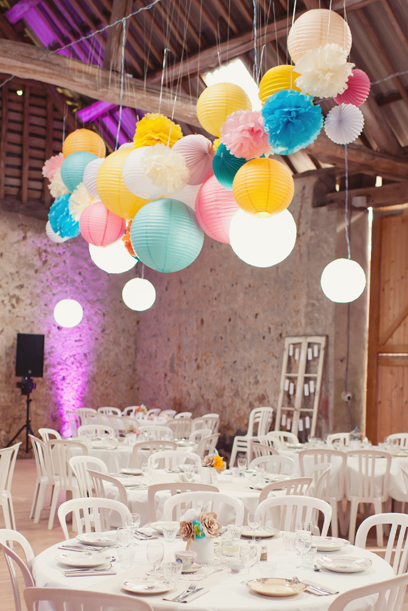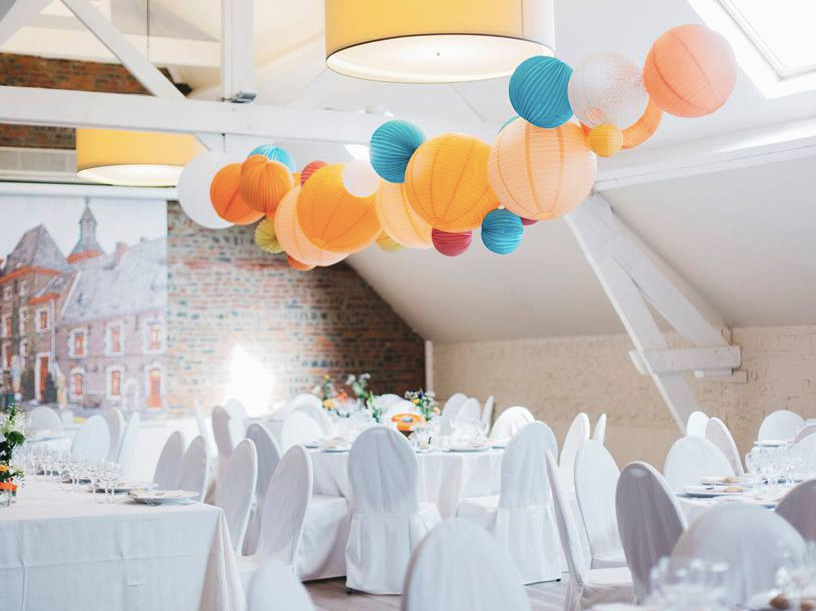 (C) Elodie Deceuninck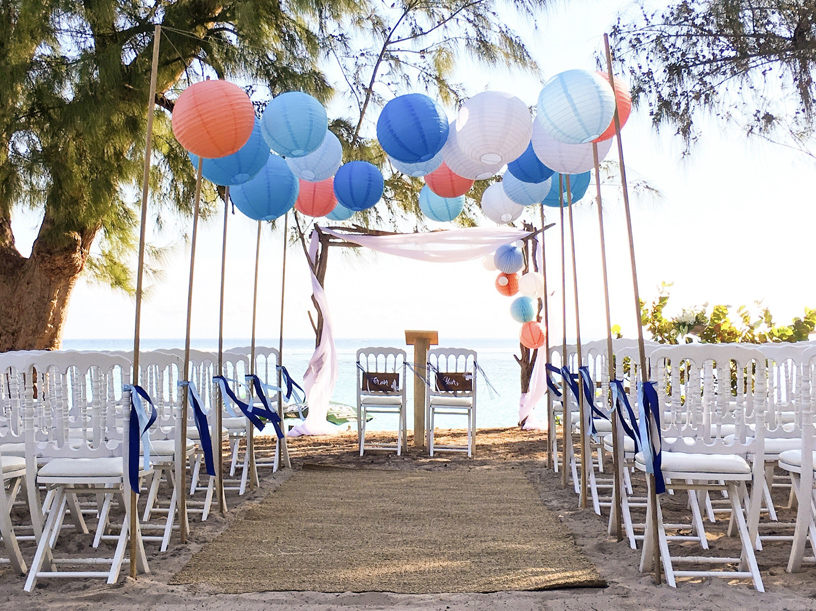 (C) Le Petit Photographe   | M&Vous Wedding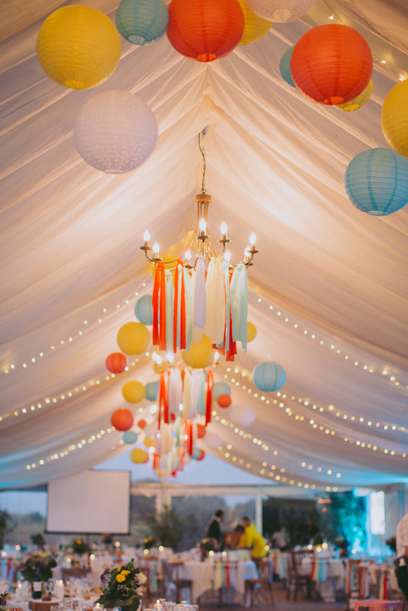 (C) Instant For Life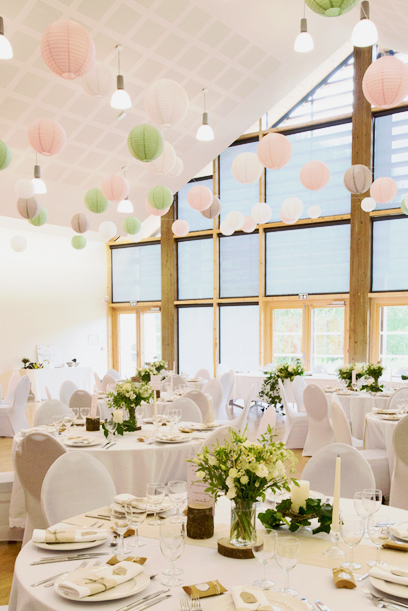 (C) Symphonie Evenement
Contact us for a free styling consultation!
If you need support to design your wedding paper lantern décor, feel free to contact us and we will be happy to help, choosing the colors, helping you on the number of paper lanterns to get, or designing a whole paper lanterns setup for you!
If you are a wedding professional, contact us for special offers and top quality consulting support!
You will find loads of inspiring pictures on our social feeds
Our blogs:  Pretty Ideas for Your Wedding  and Under The Paper Lantern Blog
Our Instagram and Facebook pages
And here is a selection of perfect products for your wedding>>