Under the Paper Lantern

We're all about pretty colors, modern design and the pursuit of happiness. Whether you're hunting for décor for a special room or looking for a way to kick your party style up a notch, we've got an easy and affordable way to do it.
Weddings, baby showers, and other celebrations – our lanterns will be the cherry on top of your sundae!
Why do we think our lanterns are special? We create our own custom colors for most ouf our range, and we help you put together the most amazing combinations.
Each and every order is treated within 1 working day with care and shipped to your door lickety-split. We work with tons of different shipping options so you can get your order when you need it, at the right price.

We are really serious about the quality of our products and truly feel that it starts in the factories where our pieces are made. We believe in good working conditions in clean and organized facilities. Our on site team fosters a very close relationship with our production teams to make sure all of our high standards are met. This quality comes with a price -- we are confident that our prices are worth it. We want to make your event, party or home happy, but we also want to make everyone happy from the ground up.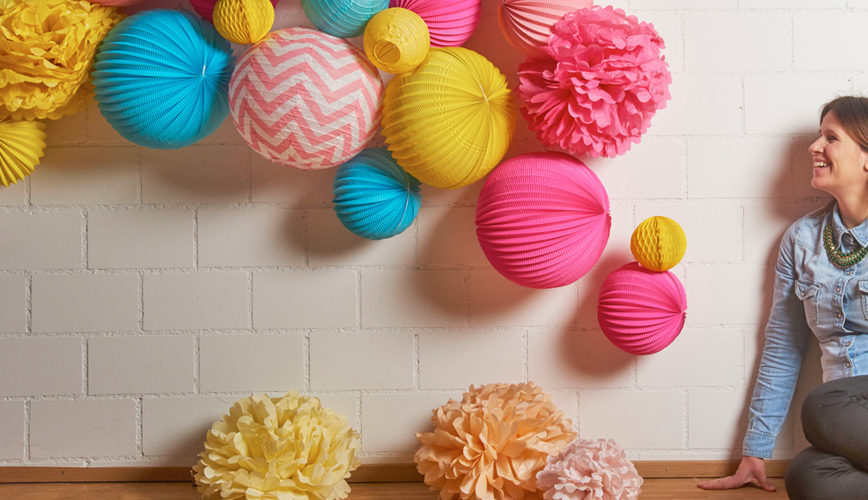 All of our lanterns are designed by Parisian-born Alix Abelé (mother of little Harold, Charles, and baby girl Félicie - paper lanterns fans) long-time wedding blogger and color addict.  Every season she pores over the latest trends to make sure that her decorations are hip and fresh.
P.S: if you want to hang out with us, follow us on Facebook, Instagram, Twitter, and check out our super-sweet blog.